5 Must-Have Tools & Accessories for the Home Mechanic
Date Posted: 22 June 2021
Do you love working on your car at home? Here's five essentials every home mechanic should have in their arsenal.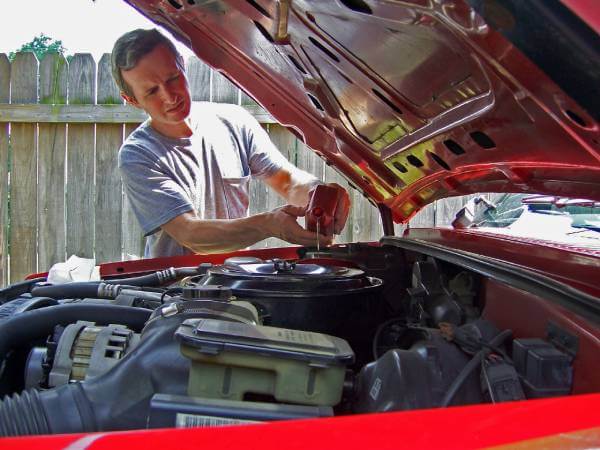 "Handymen would agree that there is a certain satisfaction that comes with doing specific tasks like replacing air filters, changing motor oil, and replacing headlights – all at the comfort of their own home. And as a handyman, you need tools and items that let you take on simple projects. When the time comes for you to graduate to more challenging tasks, you require more than just a few screwdrivers, duct tapes, and a wrench.
In this blog post, we share five essentials every home mechanic should have in their arsenal. You can find all these products here on The Grit.
1. SP Tools LED Magbase Work Light Torch
Every mechanic knows that working in a dimly lit room is impossible. You need to make sure your work area is adequately illuminated. With the SP Tools LED Magbase Work Light Torch, you have a work light and torch in one handy tool. The torch provides 100 lumens, while the work light offers 350 lumens of brightness. That's 250% brighter than other similar light sources, which gives you the confidence that you're doing your job correctly.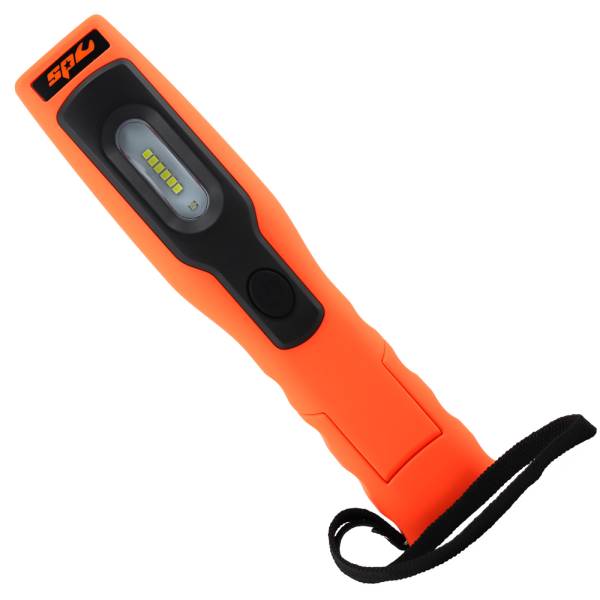 This two-in-one LED torch gives you long battery life, so you do not have to run to charge when you're busy working. The Lithium-ion battery is easily rechargeable using the AC charger that comes with it. The item also has a 12-volt car charger. This tool is very easy to use with the 350LM light in the body and LED 100LM at the top, which you can conveniently use as a torch.
But this is not your ordinary torch. You know that home mechanics like you require both hands when performing most tasks. It's challenging to repair and bring your car back from the dead if you have one hand holding the torch while the other tries to work on a pair of pliers. And it does not help to put the torch in your mouth, either. Instead, why not go for a tool with a magnetic base? It sticks on any metal surface, so you let it shine on your workspace totally hands-free. Plus, it has two fold-away 180-degree hanging hooks, so you can hang it anywhere to give the room the brightness it needs.
This tool is ideal for home mechanics, as well as anyone who loves DIY repairs. You can also take it with you for your camping and hiking trips. Because there's enough brightness, the SP Tools LED Magbase Work Light Torch is an excellent choice for auto repair and maintenance. Remember, if you can't see it, you can never fix it.
2. AgBoss 500ml Mint Grit Hand Cleaner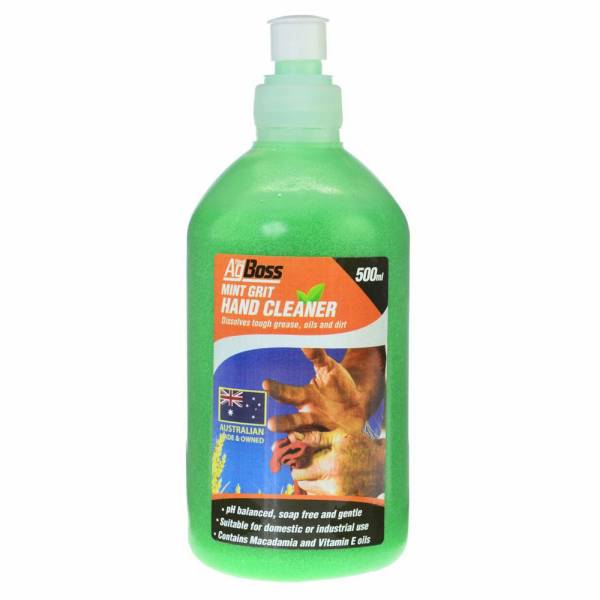 Most handypersons have all the tools that they need ready in their workshop. But they forget one thing: a hand sanitiser. Yes, you need one – a big one. The AgBoss 500mL Mint Grit Hand Cleaner is exactly what a busy mechanic like you requires. It's a gentle handwash that can remove even the toughest
grease and grime. Plus, it comes with a fresh minty scent that will not make you smell like you just emerged from under the car.
This hand cleaner is the preferred product in industrial workplaces. It works hard to get rid of dirt, so you achieve a better clean. And since you mostly come in contact with abrasive items and harsh chemicals, you need extra care for your hands. Although the AgBoss Mint Grit Hand Cleaner is tough on germs and filth, it is gentle on the skin. It even has added moisturising agents and vitamin E. So, if you (or your partner) may have noticed how rough your palms have become, it's time to give them a little bit more attention. The combination of moisturisers and vitamin E will leave your hands feeling softer and smoother.
Best of all, the product is nontoxic. It is safe to use and biodegradable, as well. You do not have to worry about the mint hand cleaner harming the soil and plants near your workshop or garage. It does not contain phosphates but does have pumice in dust or powder form, a naturally occurring material. No irritants, no hazardous contents, just a gentle cleaner – these are the benefits you will get from the AgBoss Mint Grit Hand Cleaner. You can also find the five-litre option here on The Grit.
3. SP Tools Magnetic Guard / Fender Cover Protector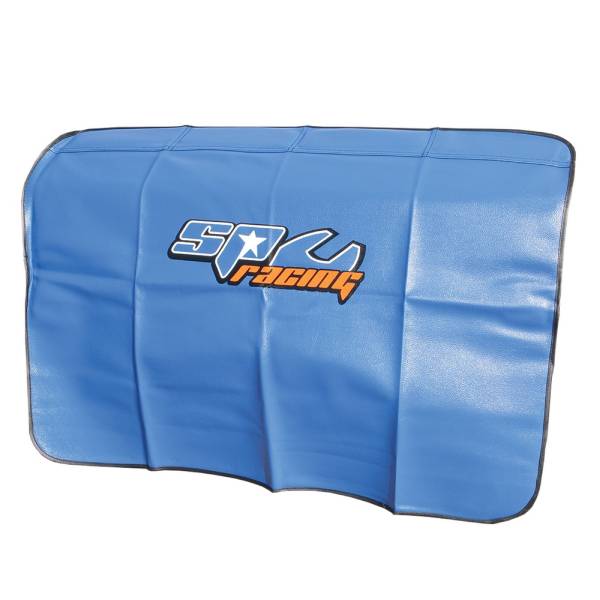 Working on cars can become frustrating, especially considering the amount of time and money you may have already invested. The last thing you need now is to deal with spills, scratches, and nicks. But all these problems can happen at any time. They are a regular part when doing car repairs, but that does not mean you cannot do anything about them. Using a magnetic guard or fender cover from SP Tools is the easiest and most affordable way to protect the vehicle's paint job.
Fender cover protectors are designed to fit your car's fender. It's your partner as you work under the hood, making sure that the vehicle does not suffer in case you spill something on the side. The cover will take the brunt of the damage if ever you did spill liquid on it. Therefore, the car's paint remains intact and undisturbed.
SP Tools created a magnetic fender cover, which guarantees that you will have no trouble taking it on and off whenever you please. The strong magnets do not slide off, but you can quickly adjust them when needed. However, they stay in place, so you can keep your mind off fluids messing with your car's paint job. SP Tools chose a vinyl fender guard, which has soft inner and hidden sleeved magnets that secure the cover on the fender of the vehicle.
This home mechanic essential is resistant to oil, water, and grease. Don't be fooled by the cushioned material. It has been reinforced, so it's impervious to most fluids. Plus, it's reusable and easily washable. Even when you remove, adjust, and reposition it, the cover will not scratch or harm your car paint job. It's an affordable way to protect your vehicle's finish, so you never have to deal with costly and unsightly dings and chips.
4. 888 Tools 3 Drawer Roller Seat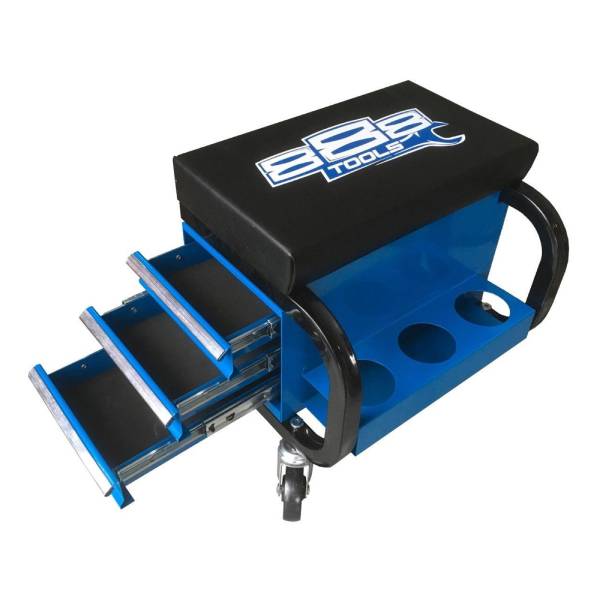 Forget about sitting on cardboard boxes, carpet pads, or even your kid's skateboard. Choose what the professionals use: the 888 Tools 3-Drawer Roller Seat. Mechanics often complain about back and neck pain, which can be due to bad posture. But let's face it; you barely notice how you position your body until you start feeling these aches and pains. Please don't wait to experience them before you do something.
The most significant benefit of using a roller seat does not have anything to do with the ability to move around without standing up whilst sitting on the chair. It's the fact that you are at the perfect angle whilst performing your job. The padded seat is also comfortable, so you do not feel tired even if you have been sitting for an hour. It offers excellent support, especially for your lower back.
Like most mechanics, you already know what you need before you even begin your job. Place the items inside the holders, so you do not walk around scratching your head while thinking, "What was it that I needed?" Get the items and tools ready by laying them in front of you or putting some in the drawers. Three-slot drawers are easily accessible, thanks to the ball-bearing storage. This roller seat uses swivel castors, allowing you to slide in and around the room if you need to reach for something.
If you had trouble working on low-height jobs before, such as the front end of the vehicle, brakes, or body fender, this seat is exactly what you need. It is extra durable and can handle up to 120kgs of weight. Plus, the slide drawers will keep your tools handy. Additionally, it has three can holders, making this drawer roller seat a trustworthy mechanic's best friend.
5. KC Tools 2 Tonne Low Profile Service Trolley Jack
Changing your tyres or installing new brake pads means that you need to jack up your car. If it's the first time that you will be doing any of the tasks mentioned, you will be surprised that you have to jack up the vehicle more than you think. That's why you should pick a durable and powerful trolley jack – and we have just the right tool for you.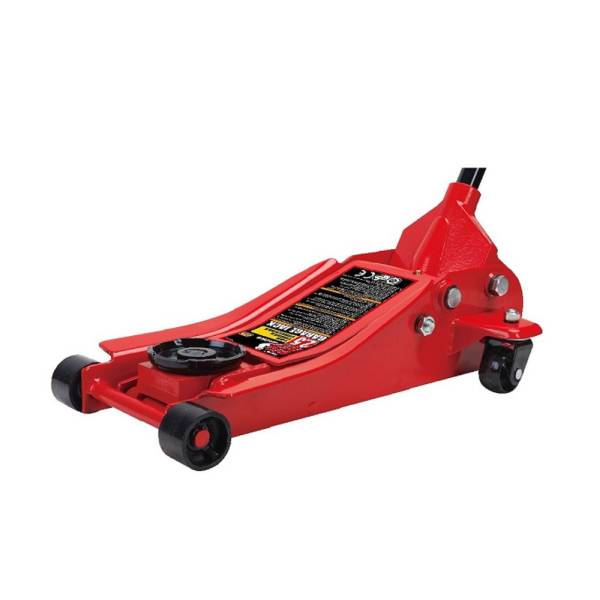 KC Tools 2 Tonne Low Profile Service Trolley Jack is ready to take heavy loads. You can rely on it to do the heavy lifting, so you never have to. Home mechanics agree that trolley jacks are an absolute must for every garage or workshop. It does not matter if you have one in the boot that you can access for emergencies or one that's simply stored in the corner of your garage. You will need a trolley jack if you plan to work on your vehicle.
This mobile device lets you lift your car carefully and steadily, so you can work underneath. It is scary, especially for beginner mechanics. However, when you have a jack you know you can turn to, you will become more confident as you change the tyres or repair brake assemblies.
KC Tools designed this trolley jack to reach a height of 82mm to 455mm. It can lift up to 373mm and has a two-tonne capacity. That means this trolley jack can be used for a full-size family saloon. It's the perfect, low-cost jack for light-duty and home use.
Be sure to read your car owner's manual before you get to work. Safety first!
Are you ready to tackle more vehicle repair or maintenance jobs? Improve your collection of tools by getting these five home mechanic essentials only here on The Grit.
---